Discover more from Behind a Door
Biweekly newsletter focusing attention and engaging community with writing and art
I sometimes drove with my knees.
Issue 40
Art
Whisper
R. Bareno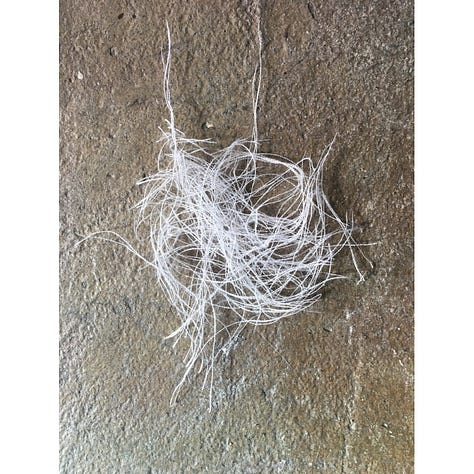 The softness of the fringe…it feels like a whisper. Pulling threads from the structure of the weave…it too feels like a whisper. I like the way the breeze moves the edges of these pieces. I want to keep this light feeling of the worn fabric. I'm not sure where I'm going with them.
Thanks for reading Behind a Door! Subscribe for free to receive new posts and support my work.
Dispatch
Juice box
A Trustee
The hostile beneficiary is getting to me
For the last six months, copies of my brother's in pro per petitions, motions, declarations, challenges, memos, and exhibits have continued to appear in my mailbox almost weekly, because I am the trustee of our deceased mother's small estate and because he is mentally ill. He isn't supposed to send me these things. They're supposed to go to my lawyer. But my brother operates in megaphone mode especially when all bets are off, like now.
Last fall, when I failed to explain to my brother why his Hollywood Star in the Hollywood Walk of Fame was missing, (because it was imaginary) he decided my inability to answer him was fraud ("silence is fraud"). He then filed a lawsuit requesting the court to replace me as trustee with himself; requesting the court to sanction me and order me to pay him $15,000,000 in damages; requesting that I and anyone who has talked to him or tried to talk to him since our mother died in August 2022, including any lawyer involved, any partner of the law firm of any lawyer involved, the judge, the person who answered the phone at the courthouse, the post office, and the private investigator my brother hired to dig up dirt on me and all the other beneficiaries, that all these people be sanctioned by the court because they defrauded him as well, though not because they were silent, necessarily.
He informed the court, in documents ranging from two pages to fifty, that I was able to poison him from across the country, and was the reason why he caught a virus and missed his first court date. He also let the court know that I am a drug cartel boss from a country that hasn't been in existence since the Middle Ages, Kazharia; what's more, I hacked his SIM card through my proxies.
My brother often includes personal background information to support his motions, referencing imaginary experiences with Chinese torture star chambers and being gang-raped in Pelican Bay. He also claims, repeatedly, to be a veteran—discharged honorably. He believes he's received multiple awards from the NSA, the CIA, and the Academy of Motion Picture Art and Sciences. He seems to remember earning millions for "repping" Madonna. Lastly, he dated Mariah Carey (briefly).
Recently, in a new court submission, my brother wondered whether I might actually be a ghost. What a relief!
The words show up, and then I add them to a thickening pile of papers inside a cabinet, inside my garage. I will throw it all out when the time comes, perhaps sometime in 2025 at the latest, because that's how long my brother has by law to harass me as a trustee. I will throw it all out. As soon as I'm done throwing up.
Delusions with inaccurate basis are getting to me
I find myself wanting very much to make my brother's delusions more accurate. They may animate from some old nugget of our family's history. Other times, his delusions spring from disappointment or difficulties during his adult life, of which I have a limited understanding, because he was estranged from the family for almost all of it. There's also canards from Conspiracy Internet; or, they come from nowhere at all. But when I recognize a family-history-based delusion, and the source is incorrect, it really gets to me.
Remember Khazaria—the defunct country from the Dark Ages? Khazaria is from a conspiracy theory associated with the Ashkenazis. But our father was (originally) Sefardic, a line that is traceable back to 15th century Spain, when Sefards, along with other ethnic groups deemed racially or socially unacceptable (as well as women deemed too powerful or independent), and/or had property the Crown preferred to annex, etc, were burned, went into hiding, or were driven out in The Spanish Inquisition, far from Turkey, and many centuries after Khazaria existed.
According to my brother's court documents, not only am I now in charge of Khazaria's mafia, but our father was a part of something called the King David Network (this is, by the way, actually a radio station) which secretly ran the Medellín cartel (not Pablo Escobar).
Then there's this so-called veteran status my brother keeps claiming. But he was never deployed; he was simply in the reserves. Because he failed to maintain contact, he was discharged. He does not qualify for veteran's benefits. He is not a veteran.
Misspellings are getting to me
He consistently, pathologically misspells everyone's name in the court documents, except his own. Ad nauseam.
The court must be fair, and that is getting to me
The court must treat everyone fairly, even the mentally ill. My brother knows this—after all, the City of Los Angeles took him seriously when he sued them two years ago (they were able to dismiss the case on a technicality, after a year, but not because he was mentally ill). Costly lawyers must read through the paperwork, so that costly objections can be filed and costly hearing appearances can be made. Meanwhile, I watch my mother's small trust's bank balance go down, down, down. It's a good thing none of this matters. None of it means anything. Excuse me, while I go throw up.
Juice box
When my kids were young, despite being of generally reasonable, calm temperament, they sometimes found themselves unable to avoid feeling crabby, hysterical, frustrated, enraged, or all of the above. If this occurred in transit, home comforts like a meal, a blanket, a bath, a good storybook reread while snuggling with me, etc., were not available. In that case, it was time for the juice box. They were shelf-stable, and usually conveniently located in my large mom bag—always within arm's reach. With my left hand on the steering wheel, I used my teeth and my right hand to unwrap the straw. Unfortunately, pushing the straw through the tiny foil insertion point on the juice box required two hands, so in that moment, I drove with my knees. I never got into an accident, and most of the time managed not to spill it all over myself, the dashboard, the kids, and their carseats. The handoff achieved, I observed, in the rear-view mirror, hydration and vitamin C (and a little sugar I guess. It was, after all, juice) soothing my young children back to (temporary) composure.
If you would like to send my brother a juice box, I can provide his address.
Evidence
Easter, 1968
S.J.B.
Shot on Super 8 film, in Los Angeles, California.
4 minutes 12 seconds.
Audio description: No audio.
Poem
Goodbye Poem
C. Hudak
We were in deep water
when something beneath caught my eye.
I went all the way under,
came up soaked, water in my eyes
obscuring the world.
I held it in my hand.
Look, I said, how it sparkles.
It's just a rock, you said, and swam away.
Evidence
I'm not smiling in any of them
C. Hudak
Recipe
Refried Beans
A Mom
I like to pressure-cook the pinto beans because it is easy and fast. I also prefer to use a large cast iron pan for the final step; and if you have one, you would know that you need to preheat the pan on low heat so that the entire surface is evenly heated.
2 C pinto beans or mayocoba beans
2 onions. 1 small dice and one peeled, cut in half
1 T epazote if available
2 bay leaves
4-6 garlic cloves minced
2-3 T olive oil
1 T bacon fat if available and desirable
1 t ground cumin or to taste
1 t oregano or to taste
1 T kosher salt
black pepper to taste
chicken stock (optional)

Instructions

Pick through beans; soak in cold water to cover overnight. Drain and rinse well.

Place in pressure cooker, add water to cover by one inch.

Add the two halves of one onion, epazote, and bay leaves.

Bring to boil, pressure cook at high setting for 10 minutes. Let cool down using 'natural release'—that is, just let the pressure go down, without forcing it to release pressure. (Note: I do not own a "hot pot"—I imagine in that case you would use the hot pot's electronic settings.)

In a large cast iron pan, add onion and a pinch of salt and sauté on low-medium heat until translucent and slightly brown.

Add garlic and sauté for another minute or so.

Using a slotted spoon, transfer the beans to the pan. Add about one cup of the bean liquid. Mash the beans with a masher. If the mixture gets too thick, add more bean liquid, chicken stock, or water.

The mixture should be a little thinner than the texture you might prefer, because it will thicken. Add salt, pepper, cumin, oregano, and stir. Simmer for twenty minutes or until it tastes good, adding more salt if necessary.

Leftovers will thicken. When reheating, add water to adjust texture.
Note: if you are not pressure-cooking the beans, perhaps instead opting for canned beans (we never judge expediency here at Behind a Door), do not add nearly as much salt and do not use the bean juice. Start with 1 teaspoon of salt and work your way up from there.
The Patio, Grand Canyon, Arizona, by O. Skyrus.
27 seconds
Audio description: Strong wind sounds. A rushing creek.
---
Like what we do? We now have a Ko-Fi for that.
Make art and/or writing. Send it to info@behindadoor.com. We will publish submissions in this ezine or in our first limited edition handbound chapbook. 
Thanks for reading Behind a Door! Subscribe for free to receive new posts and support our work.