There are things I wish I could tell you.
Issue 003
Art
Sediment
by G. Slonaker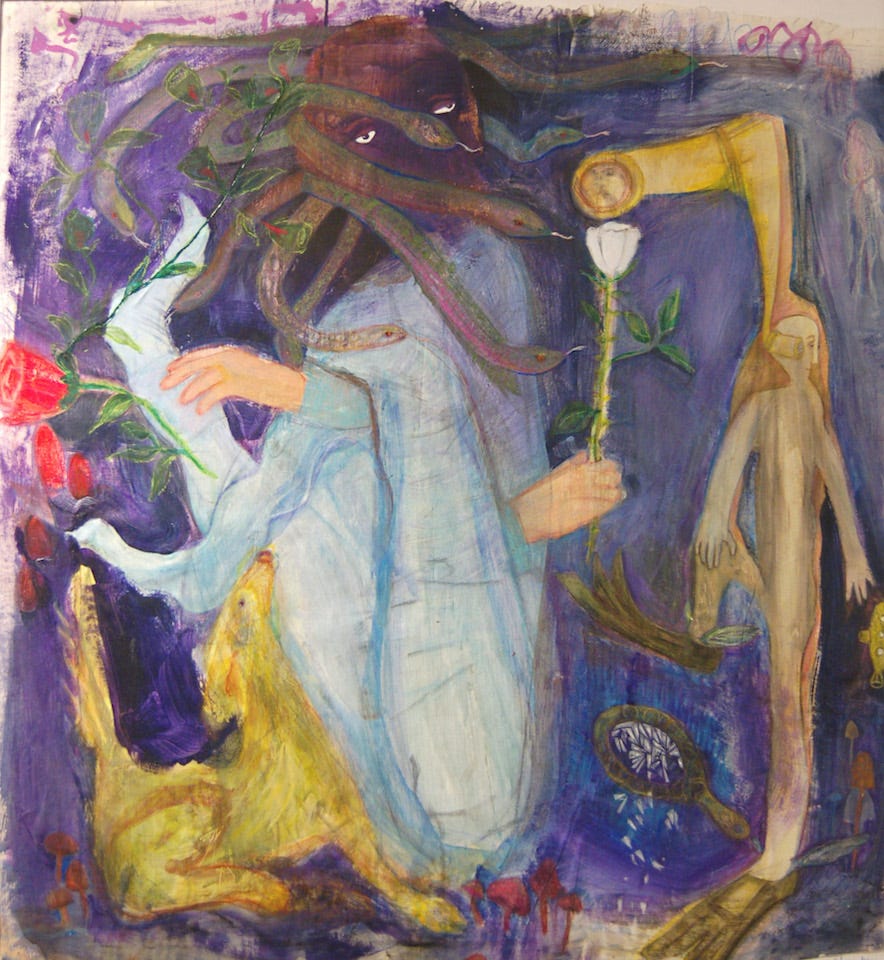 Recollection
There Are Things I Wish I Could Tell You
by C. Hudak
After we were denied entry at one jail, we drove the half hour south to the other jail.
There was no physical distancing. There were no temperature checks. S., who was very careful, shared her hand sanitizer, and that was the extent to which anyone made an effort.
There was one guard to let all us lawyers in, the same guy who called for and let in every arrestee. Things moved slow. The guard allowed four lawyers in at a time. I didn't realize I was lucky until I went out and saw the lineup of lawyers waiting to get in.
I don't know how many of us were volunteers. Whether or not anyone was getting paid, all the lawyers were white. Most of us were women. Each of us visited with at least three arrestees, and I could count the number of white arrestees on one hand. The guard, too, was a man of color.
A row of narrow interview cubbies reminded me of some television crime drama. The walls were off-white, or maybe beige. In my cubby, on the wall around the glass partition, there were children's penciled scribbles. I didn't think to wipe down the phone receiver; anyway, I didn't have anything to wipe it with. The cubby smelled of plastic.
The arrestees I visited wore masks, and some of them wore their masks correctly. Their side of the interview cubby was not washed between each new person's arrival. There was no physical distancing visible on their side of the glass.
It is uncomfortable to speak, through a mask, on a phone, to a masked person on the other side of a partition.
More than one of the arrestees I visited with cried. One had not had his medication since he'd arrived. One was very concerned about his wife. One was very concerned about his prior arrests. One was very concerned the shelter where he was staying would throw his bed and belongings away.
When a young man is in jail, on the other side of a glass partition, and he turns toward you one last time to give a small, dejected wave goodbye, it is difficult not to cry.
Outside, lawyers mingled, waiting their turns. I met a lawyer who, like me, worked mostly at the detention center. Neither of us had been to this jail before. She asked me what it was like inside. I told her it seemed, somehow, less intimidating than the detention center. Here, the prison doors seemed to clang more quietly. The hallways and vestibules where lawyers walked and waited were darker, maybe, or smaller.
It was a Sunday. It was sunny. Protestors outside the jail banged pans and honked car horns. One man stood nearby the rest, playing a trumpet.
Art
Big City Dreaming
by S. Skelly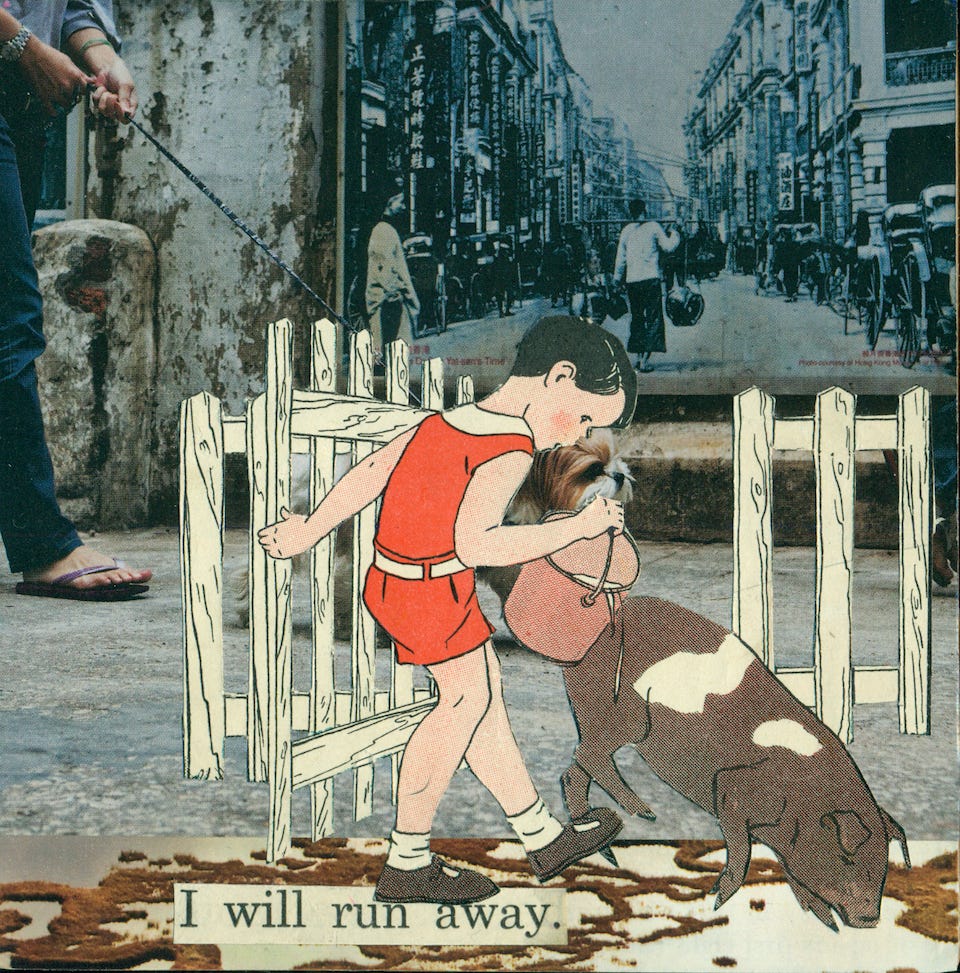 Poem
Mercy
by S. Fleming

She had asked God to lay off for a while now. She

Reached the point of a bubbling, boiling vat of psychic

molasses…Way enough-

Walking into this night. Hands filled with seeds, she

Mindlessly plopped them in clumps, to fall-approaching

The speed of light. The finite in the world implies the

Infinite. I read this somewhere today. No tears in my eyes,

Yes, I believe it!

A middle care zooms down the sidewalk, bumping the pebbles

Of south Louisiana dirt (USA)

Lemme strip the magnolia seeds into my lap

Making a necklace for my friend

Note to God - that would be mercy
Recipe
Gray's Cioppino
Good for holidays, or when you're missing someone, something, or somewhere you have loved
1 finely chopped onion
1 big, finely chopped shallot
a bunch of finely chopped green onions, with their greens
6 grated cloves of garlic
2 C sliced mushrooms (shiitake if you can)
1 large can of whole tomatoes
1 C Italian parsley
1 bay leaf
red pepper flakes, paprika, basil, and oregano to taste
1# halibut
1# cod
1 jar oysters
2 dozen clams
2 dozen mussels
handful of tiny scallops
2 C delicious, dry, white wine
6-8 C fish stock
olive oil
Set the clams in a bowl of salt water, so they spit out their sand. Run the mussels under cold water and peel off their beards. Peel the prawns. Cut the white fish into chunks.
Using only those whose shells are tightly closed, steam the mussels and clams in the white wine for ~10 minutes, or until their shells open. Remove the shellfish from the pan and reserve the white wine.
Saute the onion and shallot in 1 C of olive oil until soft. When they are almost ready, add the green onions and garlic. When those are just fragrant, add the mushrooms, and saute until the mushrooms have released most of their moisture. Add all the spices, and stir. Use your hands to crush the tomatoes into the stew, and pour their juice in, too. Let this stay on a low simmer for about a half hour.
Add the fish stock, parsley, and reserved white wine, and bring the stew back up to simmer. Add the white fish, then prawns, then scallops. Right before serving, add the clams and mussels, in their shells.
Serve with bread. Leftovers can be gently reheated and used as a pasta sauce.